Webcast: Bend, Oregon - September 27 - October 5, 2015
We will not be able to provide technical support for your computer or software difficulties during the Webcast. You can send an email to salemucg@gmail.com if you have any comments.
The Webcast will begin 10 minutes before the start of the service and will continue through the closing prayer. If the stream is interrupted, wait a few seconds and, if the stream does not automatically restart, you can manually restart the stream by pressing stop and then play. All times are PST.
You can also watch the webcast via the Ustream website at http://www.ustream.tv/channel/ucg-feast-of-tabernacles---bend-oregon
Due to copyright restrictions or other circumstances, certain parts of the live Webcast will not be made available. This could include—but not limited to—special music, announcements or other portions of the Webcast.
Webcast Schedule (Pacific Time Zone)
The archived sermons will be available at feast.ucg.org/sermons
Sunday, September 27 (7:30 PM)
Sermonette: none
Sermon: Larry Walker
Holy Day - Monday, September 28 (1:30 PM)
Sermonette: Eric Johnson
Sermon: Victor Kubik
Tuesday, September 29 (10:30 AM)
Split-Sermon: Brian McGuire
Split-Sermon: Ben Light
Wednesday, September 30 (10:30 AM)
Sermonette: Joseph Hasenoehrl
Sermon: Terry Swaggerty
Thursday, October 1 (10:30 AM)
Split-Sermon: Jeff Richards
Split-Sermon: Roc Corbett
Friday, October 2 (10:30 AM)
Split-Sermon: Hansel New
Split-Sermon: Fred Reeves
Sabbath, October 3 (12:00 PM)
LIVE Streaming Webcast from Sevierville, TN
Sunday, October 4 (10:30 AM)
Sermonette: Gary Johnson
Sermon: Larry Walker
Holy Day - Monday, October 5 (10:30 AM)
Sermonette: Gerald Hoyer
Sermon: Rex Sexton
Holy Day - Monday, October 5 (2:30 PM)
Sermonette: None
Sermon: Roc Corbett
Problems Watching Webcast
If you have problems watching a live or archived webcast please refer to the points below.
1. The video is choppy or not playing smooth. You may need to change the video quality within the Ustream player for a better viewing experience.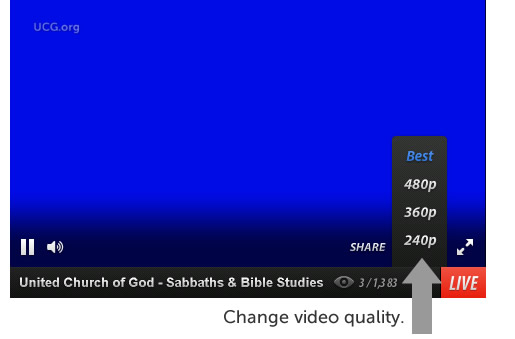 2. I don't hear any sound and I know my speakers are working and turned on. The Ustream video player may be muted. Unmute the audio inside the player and choose the volume level.
3. If the video is "Off Air" then there is no live webcast to view at the time. There maybe other videos to view or there might be a slideshow of various photos.
4. The red "LIVE" indicates that there is a live-webcast event happening and you can view it now.
5. The "Recorded Live" indicates that you are watching an archived webcast.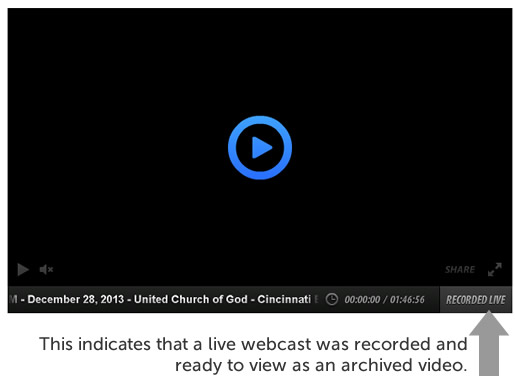 If you need additional video help, please visit the Ustream support website.